For those who don't know, the new league year (aka the 2021-2022 NFL season) will officially start on March 17th at 4pm ET, so tantalizingly close. Also, the deadline for franchise tagging players is March 9th and the legal tampering period (the time when teams can enter contract negotiations with players who will be unrestricted free agents) is March 15th-17th. Little regarding the franchise tag has happened as of yet, Broncos safety, Justin Simmons, is the first and so far only player to be tagged and Panthers tackle, Taylor Moton expected to be tagged. But when it comes to cuts, things get interesting. Veteran QB and comeback player of the year, Alex Smith was released by the Football Team, veteran tight end Kyle Rudolph was released by the Vikings after a season of failed trade attempts, Golden Tate from the Giants was released, as his abilities have diminished with age, and the big surprise, Kyle Van Noy, the ex Patriots linebacker who signed a $51 million deal with the Dolphins was cut too. There are many trade rumors starting to heat up as well, with names like Russell Wilson, Jimmy Garoppolo, Trent Brown, Odell Beckham Jr., Zach Ertz, Danielle Hunter, and Stephon Gilmore all being names to watch this offseason and throughout free agency. Now, we reach the million dollar question for many, "what will the Patriots do this offseason?" First, a quick recap, they have around $66 million in cap space right now, good for 3rd most in the league, they are armed with the 15th overall pick, which could land them a solid player in a stacked draft class, and according to Field Yates on ESPN, Bill Belichick is "ready to spend" in free agency. Let's check out some news and rumors…
Many sources have reported that New England knows who they want for a QB, a familiar face named Jimmy Garoppolo. Greg Bedard of the Boston Sports Journal says that Jimmy G is "far and away their plan A" at quarterback. With the Cam Newton experiment delivering mixed results, many expect Bill Belichick to move in a different direction and a Garoppolo trade would make sense. Jimmy G knows the system, has immense respect for Belichick, is a familiar face in the locker room, and is a good leader. The only drawbacks are his injury history and his large contract (which the 49ers would have to absorb if they traded him). I don't expect him to cost that much in a trade as the 49ers don't have leverage, but a fair price would be this year's 4th round pick and next year's 3rd round pick.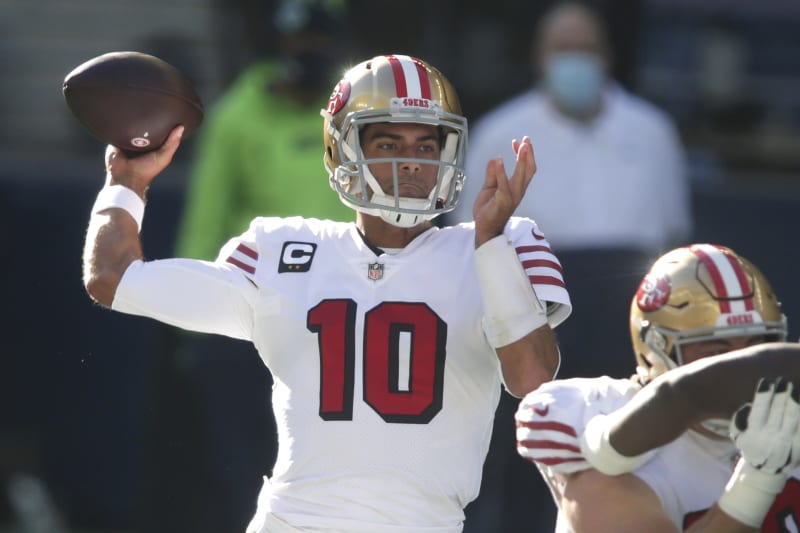 I mentioned that Kyle Rudolph was released and he expressed real interest in coming to the Patriots. Let's face it, the Patriots haven't had a good tight end since Gronk and Asiasi and Keene did little to help last season, signing Rudolph to a cheap deal would be a good move. If the Patriots can't lure in free agents like Hunter Henry or Jonnu Smith, Rudolph would be a great add. Also recently cut linebacker and former Patriot, Kyle Van Noy hasn't ruled out and reunion and there seems to be interest from both sides.
Rumor has it that 2 former Patriots are being shopped around right now, offensive tackle, Trent Brown and wide receiver, Brandin Cooks. Trent Brown was a great left tackle for the Patriots when he played there and he was a part of the stout offensive line that protected Tom Brady in Super Bowl 53. Cooks would be a welcome presence and was originally acquired by New England to be a weapon for Jimmy G and not Brady, do with that information what you will.
At the end of the day, I don't know what Belichick is going to do and we can only guess. Only Belichick knows and he's got cash and draft capital to play with, we have to trust Bill Belichick when the stakes are highest. This is going to be an interesting and exciting offseason for the Pats.